Puppies
It is important to pick the right pup for the job. This is going to be your hunting partner for the next decade so research is important. A dog that is bred for genetic makeup will be more likely to have the natural instincts needed, be easier to train and cost you less in the long run. You want a healthy pup with good breeding. Only buy a pup from a reputable breeder. Our kennel may have a litter available through our stud service. Additionally, we have contacts with reputable breeders that we can refer you to:
Puppy Picking Tips
Pick only from a reputable breeder
Look for an AKC titled pedigree and AKC paperwork on the litter
Look for health clearances on the parents
Has a written 2 year puppy guarantee
Breeder will have had the pups cared for by a veterinarian, including worming, dew claws removed and first shots
Puppies that are raised in a home like environment, not a mill type operation or pet store
Breeder has parents on site or has the background information of the parents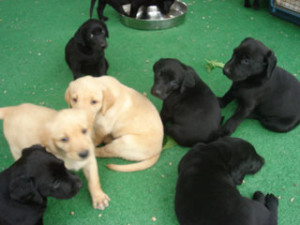 Stud Dogs
If you are looking for a quality stud dog, Rolida Kennels has many OFA certified stud dogs to choose from. All of our stud dogs have superior pedigrees coupled with their own titled accomplishments. Females considered will have their pedigree reviewed and pass health/vet clearances before approval is given for a breeding. We reserve the right to decline the use of our stud dogs if we feel the breeding will not meet our standards to produce healthy and quality puppies.