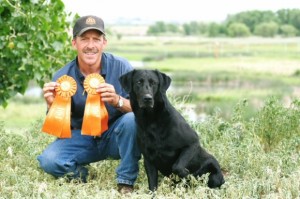 My passion for gun dogs started early in life, sitting in a freezing duck blind with my father. We watched our cold breath in the early morning and had our trusty retriever next to us. Nothing compared to the excitement when I blew my duck call and heard the flock approaching. Bang! We got one and sent our retriever to bring us back the prize. I still remember my father smiling proud of his boy and the priceless memories that were made on our trips. I will treasure these moments forever.
In the early 1980's, my father decided he didn't want to work for anyone else, so he quit his job and started his own business. This was a big surprise to my mother who had four kids at home, but with her support he fulfilled his dream. He wanted to do something he loved. Out of his passion for gun dogs, Rolida Kennels was born.
I decided to work for my father in the early 1980's and became his apprentice. It became my dream to help others enjoy what I had loved as a kid. What a difference it makes to have a well behaved, controlled, and focused dog in the field. It makes for a safer and more enjoyable hunt for everyone.
I consider myself blessed to continue my father's dream and do something I absolutely love to do. My commitment is shown in the successful training of hundreds of gun dogs with well over 100 AKC titles. But the best reward is when I get a message from one of my clients of how impressed they were with their dog, and the countless pictures I receive of the dogs after a successful hunt with their prize.